First looks at the Apple iPod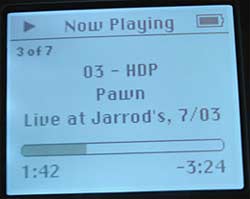 The interface of the iPod is clean. The display is quite empty. It's displaying a bar, showing you the status, time and battery load. Directly underneath that is shown the number of the song and the number of songs to be played. On the right is the optional Shuffle icon. There are just three lines of text: title, artist and album. You must pay attention to that, 'cause some bands use their name for a song or album. The text is quite large and that makes it all really easy to read. A big bar shows the song's progress, with on the left hand the played time and on the right hand the time it has to play.
The interface is easy to overview, and you get your information in one look. There's no visual clutter and all the required information is there. I'm afraid what will happen when I press one button, but the play-button seems promising, and so do the fast-forward and previous buttons.
First looks at the Sony Network Walkman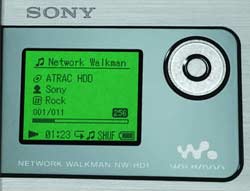 Sony's Network Walkman has a less smooth display, but it's sharp, and that's important too. The title displays the name of the music player, which could've been used better. We know what it is. Underneath that is apparently the title of the album. That's my best guess, since there's some sort of icon near it that looks like a disc. Under that is an icon of a head and neck, which probably means that the text next to it (the apt Sony) means the artist. The next icon is a rounded box with two music notes. If you look closely. It's probably the genre, since the text next to it says Rock. The bar again displays the time the song has progressed. Something about the numbers: where the first one says 001/011, it's clear that it's about the number of songs played. But look at the number at the right. 256. Wha? I guess it's the bitrate. The number at the bottom shows the played time and the icons there are clear enough.
Only after looking at all other options, I now understand that the first line of text is the currently playing song. Not too unclear, but the icon was just a music note.
I have no idea what will happen when I move my hands over to the round thing that's on the apparatus. No clue at all.
Conclude and all
The iPod has a clean interface, big screen and a clear font. Everything is big. Me like. The Network Walkman has a clear font, but a small screen, which makes it hard to read some text, or understand the icons. The icons guide the mind.
Both players require you to read the manual first, but the iPod succeeds in making an interface smart and clean to use. iPod++;
(I am somewhat biased, but give it a shot yourself – go to the nearest electronics shop and test them.)