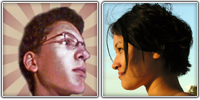 Like a battle of the sexes, but then between two designers from both sexes. Jina and I are pondering over some sort of designologue, but since we are both uninspirational sods, we'd like some suggestions. So leave your ideas at Jina's site or in my comments, and in a week or two, we will be choosing the theme.
Jina has the whole set of rules on her post, so read that and decide.
Important note: please post your suggestions etc. at her post.